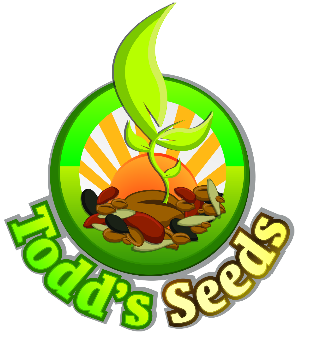 Believe it or not, our Todd's Seeds business all started with grass seed, and by that I mean bentgrass seed.  For those of you who don't know, bentgrass is that special kind of grass that golf courses use on their greens, tee boxes and fairways.
We saw a demand for bentgrass seed in smaller amounts, like one – ten pounds, instead of the twenty-five pound minimums most companies sold it in.  This got us to thinking that maybe there were other kinds of seeds we could sell and our education began.  Our very first Todd's Seeds seed was beefsteak tomato seed.  A real special heirloom seed that was quite popular.
About Us
The seed industry can be very, very intimidating when you look at the sheer number of hybrids that are out there.  After investigating and learning about the hybrid market we decided that we didn't want to specialize in hybrid seeds.  We do have some corn seeds that are hybrid, however, none of our seeds are genetically altered, and we do not specialize in hybrid seeds.
We discovered that heirloom and organic seeds were what this industry needed better supply, and at fair prices.  Chemicals and pathogens present in seed can easily be transmitted to the resulting plant, therefore, if you do not want to be consuming chemicals or ecoli in your food, you need to know that the seed you are buying is also clean, and this is one of the things we excel at.  Our seeds go through several levels of testing and cleaning, prior to being deemed ready for shipment.  The laboratory that tests our seeds look for SIX different kinds of ecoli disease, even though a couple of the strains are so rare, we don't ever expect to see them.  We do the extra steps because we know that our customers appreciate it.
Todd's Seeds – Inspection
We visually inspect everything, and hand pack everything.  Our packaging isn't fancy, and while we have a lot of software automation to handle order processing and shipping, the fact of the matter is that our production and fulfillment is all done by hand.  We still believe that the product is more important than the packaging, and we always try to keep our costs down and pass that savings along to our customers.  We may decide one day to upgrade our packaging to make it more commercially viable, however, we will never compromise the seed within.  Todd's Seeds will always be what the rest of the industry shoots for to compete against us for quality.
Also, don't forget about our famous Seed Planting Instructions.  If you see something that you need seed planting instructions for, that we don't have, please, reach out and tell us.  We will get some made up straight off.
It's a privilege serving our customers, and we will always do our best to provide fast answers to questions, and always fast order fulfillment, even if something's out of stock.  Thank you again for your patronage and please feel free to browse our seed store.