Microgreens businesses are becoming increasingly popular as they are perhaps easier than most others as they need a minimal amount of space and a relatively low financial start-up cost.
Starting any Business
There are several steps you must take prior to you starting a business if it is to be a successful venture. These steps are:
Research – Ensure there is a market for what you want to sell and consider what competition you can expect
Plan – Obviously you will want to know what property, if any you will need to successfully carry out your business. You can start with a minimum but then expand if the business grows
Cost – This should not only be the cost of the initial set-up but will also include the overheads for several months in order to allow your new business to get known and start to create profits
Name your Business – Decide on a name for your business and then register it, getting any licenses you may need
Promote your Business – Consider a marketing plan which is appropriate to the type of business you are starting
What are Microgreens?
Microgreens have been around since the 1980s but at that time there were only a few types like Basil, Kale, and Cilantro. At the time, microgreens were only used as garnish in fancy restaurants or in vinaigrette. Today however that has all changed and there are now as many as 100 different types of microgreens and due to their high nutritional value, they are becoming increasingly popular in every household.
Many of the microgreens popular today are just one step up from the seeds of more commonly known vegetables, such as broccoli. These micro vegetables are sometimes known as sprouts, such as broccoli sprouts but microgreens are in fact younger than sprouts and can contain up to 40 times the nutritional value of the fully grown plant.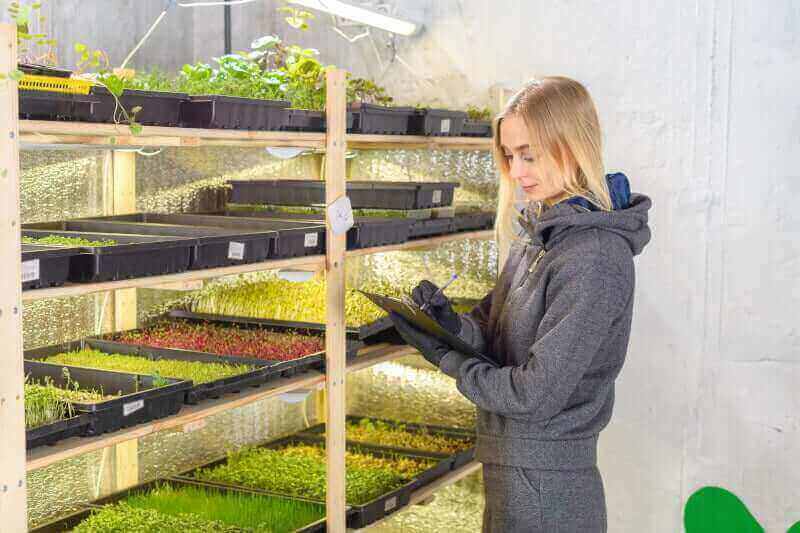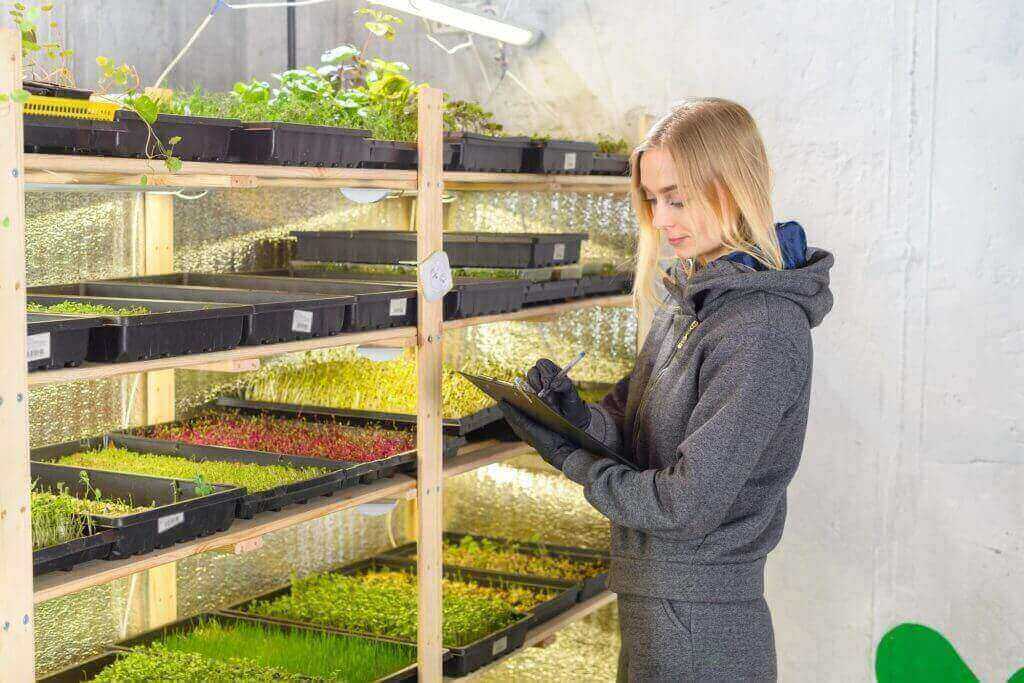 Plan for a Microgreens Business
In this instance your main steps for your start-up will be:
Pay Attention to Business – Although the idea of growing vegetables may be appealing to you, you must remember to look at it as a business and not just a hobby.
Explore the Local Microgreens Market – This will be a part of the research aspect. You will have to check any restaurants and market stall vegetable sellers to determine the quantities they would likely buy and what microgreens they are particularly interested in.
Provide the Best Microgreens Service – Researching what your potential customers' needs may be. This includes inquiring where and how they currently get their microgreens. In order to be successful, you will need to offer your potential clients something they do not currently receive.
Obviously cost is a major factor however you may be able to offer a reduction in transportation costs. Their current supplier may not be local, which is something you can determine during your research. Being able to provide fresh produce is essential to any microgreens business. The freshness of that produce will be a major factor in who clients decide to buy from. The main reason for this is that microgreens may lose their nutritional value relatively quickly compared to other vegetables. Being local will therefore also be an advantage you have over any competition.
Getting Started with Microgreens
One of the most important aspects of starting any business is the actual initial cost. This is where a microgreens business may have an advantage over many other types of start-ups.
These advantages can be placed into two categories, both of which will affect the initial start-up cost – space and materials.
Space
Unlike a farm business you won't need large fields that allow ample space for vegetables to grow to adult size. Since microgreens are harvested every 7 – 14 days, a relatively small area is needed. Many opt to grow them from their own homes. The most commonly used growing trays for microgreens are only 20" x 10". Once you have decided what microgreens to grow, you can work out the approximate area required.
Cost
The largest cost will be setting up a growing shed or similar, complete with shelves for the trays and UV lighting. Some have achieved this for as little as $600. After that the average cost of a tray, seeds, soil plus heating, light and water, for growing microgreens is, approximately $3–$5 which will provide about 12oz of microgreens.
Profit
Considering that microgreens, on average, sell at $25 to $30 per pound ($18.75 per tray) a profit can be made providing you can sell what you grow. However, the price of microgreens may vary greatly as although most seeds may cost as little as $15 per pound, exceptions such as Marigold may cost as much as $350 per pound. Hence the importance of your research to discover the specific microgreens needed in your area. Although the soil can sometimes be reused, some chefs may prefer to buy the microgreens by the tray so as to be able to cut them as needed, thus ensuring ultimate freshness.
Conclusion
Due to the increased awareness and growing popularity of microgreens, a microgreens business is a potentially viable option. It is especially great if you have limited financial resources for starting your own business. With any business though, it is the start-up which is often the biggest problem. Hence the importance to do the research and make a plan prior to making any substantial investment.
Once the business is up and running, potential customers will become aware of the freshness of your microgreens. Naturally, your client base and profits should increase. Buying your seeds wholesale from Todd's Seeds may also help reduce your costs. One advantage of buying from Todd's Seeds is that their website also provides growing instructions and other useful information that will help your business to succeed.
Regardless of what type of business you start, there are likely to be teething problems. At least by starting a microgreens business, you will have the advantage of being able to refer to Todd's Seeds to help you through them.
You can also watch the video version of this article below.
Subscribe to our channel for more gardening and sprouting videos: Todd's Seeds Youtube Channel