Are you tired of using the same Thanksgiving vegetables year after year? This holiday season, why not impress your family and friends by using a whole new set of Thanksgiving vegetables. In this guide, you'll discover the best vegetables to use for a selection of simple but impressive dishes for Thanksgiving.
Charred Cream Corn
One of the Thanksgiving vegetables that can be found on any Thanksgiving plate is delicious, golden corn. It's found in many forms, but it's at its most irresistible when it's charred and creamy. The smoky, charred taste, combined with paprika and generous amounts of cheese make this a rich indulgent dish. Not only is it tasty, but it's also easy to make and tastes perfect garnished with a bit of parsley. When it comes to choosing the best vegetables to include in a Thanksgiving dish, corn is always a hit.
Barefoot Contessa's Sauteed Carrots
There's a lot you can do with crunchy carrots as Thanksgiving vegetables. But it's Ina Garten, the Barefoot Contessa who has all the best vegetable ideas. Her simple and delicious side dish for sauteed carrots is ready in just 10 minutes. The carrots are gently sauteed in butter and served with a scattering of dill. The result is tender carrots with a slight crunch and a moreish buttery taste.
Haricots Verts with Rosemary
Golden roots are the best vegetables for Thanksgiving but there must be a bit of green on the plate too. Haricots Verts are a great alternative to using traditional green beans. They're more tender and thin with a delicate flavor and slightly crunchier texture. Sprigs of rosemary and a twist of lemon really bring out their special taste. To make them extra appealing try scattering on some flaked almonds or finely grated parmesan. You'll never see greens move so quickly from the table!
Root Vegetable Mash
It's not only potatoes that make the best vegetables for mashing, other Thanksgiving vegetables can also be mashed up easily. By using a variety of different roots, you can bring a unique flavor and color to your Thanksgiving mash. Try using red or sweet potatoes along with carrots, rutabaga, parsnips, and swede. Mash them all together with butter, milk, or cream, then garnish with parsley or chives. This dish can be made ahead and can also be made dairy-free. This mixed flavor, colorful creamy mash will be quickly adopted as a traditional favorite.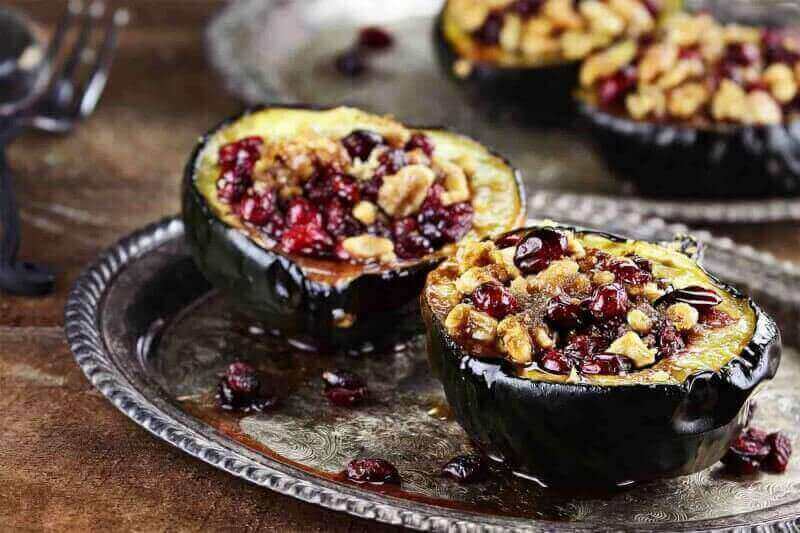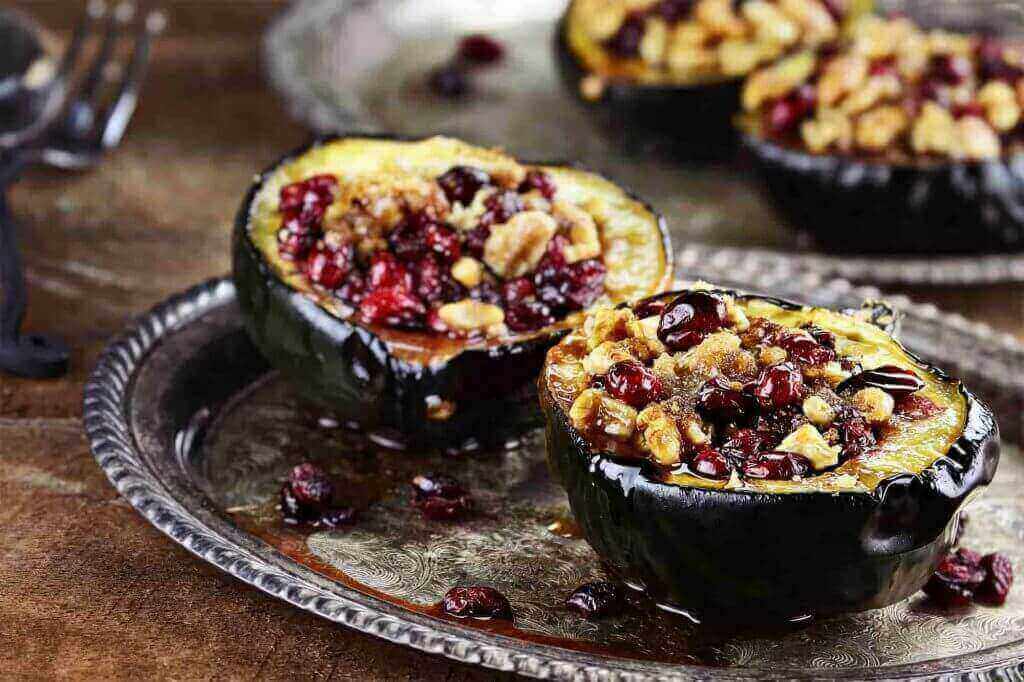 Baked Acorn Squash
Squash is a must on any Thanksgiving plate and this is surely the most appealing way to serve it. The squash is simply cut, cored, scored, and baked. Before it goes in the oven, it's drizzled in maple syrup or blanketed with brown sugar. This sweet and simple side dish can be served whole or cut into slices. A stuffed baked squash makes a great main feature for a vegetarian Thanksgiving meal. To make your baked acorn a bit more unique, try scattering some walnuts or cranberries over the top before serving. Baked acorn squash is not only one of the best Thanksgiving vegetables, but it's also one of the simplest to prepare.
Root Vegetable Gratin
If there's one thing that will make your Thanksgiving meal feel luxurious it's a root vegetable gratin. Gratin is the ultimate feel-good food with its rich baked, creamy cheesy taste and tender, thinly sliced vegetables. The best vegetables to use for root vegetable gratin are sweet potatoes, parsnips, rutabaga, turnip, and celery root. For a bit of extra color try using purple yams or beets. This dish can be made ahead and is delicious garnished with a bit of thyme. For extra depth and richness try adding some stock to the sauce. Celebrate all of the best Thanksgiving vegetables in a delicious root vegetable gratin.
Ina Garten's Caramelized Butternut Squash
Another fantastic Thanksgiving side dish from Ina Garten can be found in her caramelized butternut squash recipe. These roasted, glazed chunks are sweet and delicious and make a great substitute for roast potatoes. The recipe combines just five simple ingredients, salt, pepper, thyme, olive oil, and brown sugar. Combined, they deliver a mouthwatering, more-ish, sweet squash treat that's bound to be a favorite for years to come. For a little extra zing, try topping with a few pomegranate seeds before serving.
Easy Corn Pudding
Corn pudding isn't only the most traditional, it's also the most delicious Thanksgiving vegetable dish. It has many names including corn casserole, creamed corn, corn souffle. No matter what you call it there's no mistaking that creamy corn texture and baked cheesy taste. This is an indulgent winter treat that can be conveniently prepared a day ahead. Corn pudding is an easy to make, comforting and delicious dish. It shouldn't be missing from any Thanksgiving plate.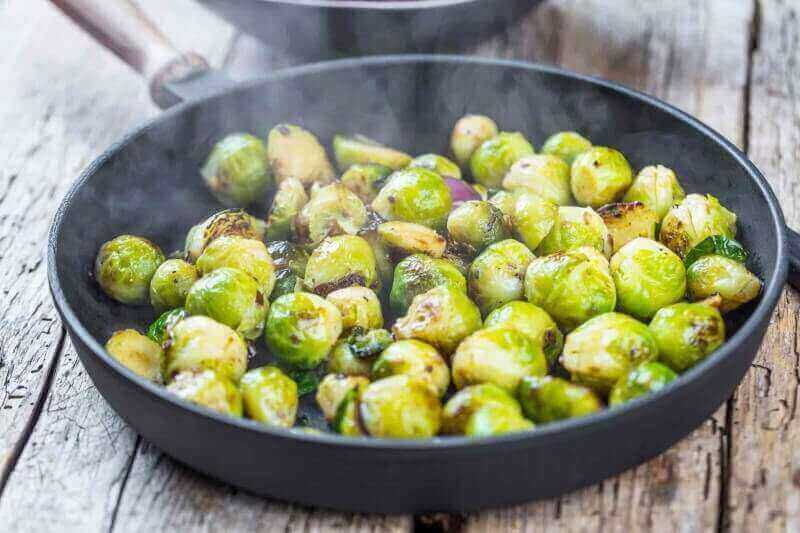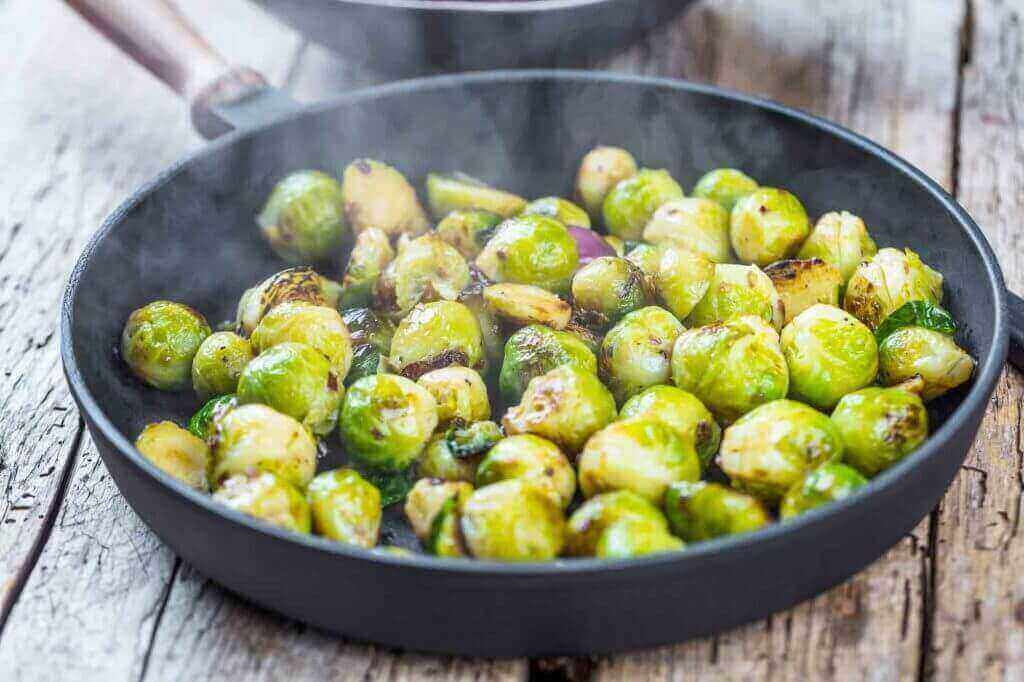 Roasted Brussel Sprouts
Who said that Brussel sprouts have to be boiled and boring? Love them or hate them they defiantly hold a reputation for being one of the best Thanksgiving vegetables. Roasting Brussel sprouts takes them to a whole new level. They come out tender on the inside and crispy on the outside with a delicious roasted taste. Sprouts can be roasted the day before, and you can add all kinds of toppings such as crispy bacon. Or try a burst of sweetness with balsamic vinegar, pecan nuts and cranberries. For the most exquisite finish try topping them with a lemon and parmesan dressing. The high nutritional content of Brussel sprouts makes them one of the best vegetables for Thanksgiving.
Garlic Green Beans
If you prefer chunky, crunchy green beans over delicate haricot verts then these are the Thanksgiving vegetables for you. This dish is simple to prepare and is the perfect traditional green dish to add to your Thanksgiving plate. The beans are simply tossed in salt, pepper, and olive oil then either roasted or sauteed with garlic. On the plate, they look glazed and appealing and taste great with a dash of lemon.
Now you'll be spoiled for choice when it comes to selecting your Thanksgiving vegetables. Using this guide, you can confidently pick out the best vegetables to make your Thanksgiving meal a memorable one.
You can also watch the video version of this article below.
Subscribe to our channel for more gardening and sprouting videos: Todd's Seeds Youtube Channel